North Texas Chapter Information

Who We Are
Our Chapter Officers
Our Members
Our Memorial to Our Members Who Have Passed
Our Members Families Still Serving
State TAVV Board Members
Other TAVV Chapters
TAVV Constitution
TAVV By-Laws
TAVV Application Form
Our Chapter Newsletter
Newsletter Archive
Upcoming Events

Our Fallen.....

"Taps........"
Wichita County
Surrounding Counties
The Rest of Texas
North of the Red
The Rest of Oklahoma
In Operation Desert Storm
In Operation Enduring Freedom
In Operation Iraqi Freedoom
In Operation New Dawn

Our Missing......

Wichita and Surrounding Counties
The Rest of Texas
North of the Red
The Rest of Oklahoma
In Operation Desert Storm
In Operation Enduring Freedom
In Operation Iraqi Freedom
In Operation New Dawn

Hear Our Voices

Hear Our Voices
A Tribute to Us from Children of Vietnam Vets
Can You Hear Me Now?
I'll Take It From Here
A Poem for Veterans Day 2002, by a Vet
10 Things You Should Know BEFORE You Protest about Iraq
A Soldier Died Today
A Letter to the Dixie Chicks
"Father of War"
Letter from a US Navy Corpsman
A Letter to Terrorist from a US Navy Pilot
The Things That Make A Soldier Great
Forgotten Soldiers
God, Are You Real?
A Tribute to Veterans

Important Web Links For All Veterans

The Texas Veterans Commission
The Texas Vietnam Veterans Memorial
Resources for Veteran Business Owners and Entrepreneurs
The Virtual Wall - Vietnam Veterams Memorial. Search Our Fallen in Many Ways
Courage-Cords, Parachute Cord Braclets made for Vets by Vets
Mesothelioma Doctors
The Mesothelioma Association
Mesothelioma Prognosis
Mesothelioma.com: Veterans & Mesothelioma - Important Links for Veterans with Mesothelioma
Facts vs Fiction: The Truth About the Vietnam War
Mesothelioma Symptoms
National Resource Directory for Wounded and Injured Soldiers
Texas Veterans Leadership Program
Vet Friends, Reconnect With Your Old Veteran & Military Friends
Project Jody, A Cadence for Life
Oklahoma City VA Hospital Phone Numbers
Wounded Warrior Project
Gulf War Veterans Illnesses
Honor Their Service *Care Packages For Our Troops*
Request Copies of Military Personnel Records
Military Report - The Military's Largest Benefits Update
The Vietnam War Resource Guide
Vietnamís Collection and Repatriation of American Remains
Veteran to Veteran
Gateway to VA Health and Benefits
Vietnam Veterans Counseling Service
We Honor Veterans
JPAC - Joint POW-MIA Accounting Command
Many Women Served in Vietnam
Women Vietnam Vets - You Are Not Forgotten
Military and Veterans Links
Find Your Buddies
The Vietnam War
Free Resumé Proof Reading For Vets
&
Gold Star Wives of America
Health of Veterans and Deployed Forces
Vietnam Veterans Children's Support Program
Agent Orange

Other Items of Interest

America At War
A Long Time Ago, in a Land Far Far Away.....
Terminology of the Vietnam War
Vietnam Pocket Guide
Comparision of Rank Structure Between the Armed Services
The Traveling Wall Here for 2nd Time
Special Olympics
Previous Parades
When the Wall Came the 1st Time
Our Annual Luau
Airmen's Attic Dinner, March 2003
Our Pool Party, 2002
Welcome Home for Troops Back From Iraq, March 2004
Support Our Troops Rally in Wichita Falls
Support Our Troops Rally in Graham
Our Christmas Parties
Christmas In April
Visits to Local Schools
Memorial Day, 2008
Memorial Day
Miscellaneous Pics
Faces and Places

For More Information

Our Meetings are held at:
B.P.O. Elks Lodge, #1105 4205 Seymour Highway
Wichita Falls, Texas 76309

For Information Phone: 940-720-2915



The Webmaster is a proud member of:


E-Mail: Webmaster


You will need Adobe Acrobat Reader to view some of the documents available on the North Texas Chapter of the TAVV Page. This format is used to help share documents without the need to buy expensive software. To download the free Adobe Acrobat Reader, which allows you to view and print Adobe documents, just click on the Adobe Icon below.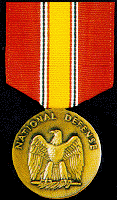 Special Items of Interest

The Annual TAVV Christmas Party will be held at the Museum of North Texas History on Indiana Street in Wichita Falls, Texas at 6:00 p.m., December 5, 2015. Please bring a covered dish. Brisquet and Turkey will be provided by the club. Hope to see you all there.

The Annual Veteran's Day Parade will be held on Satuday, November 7, 2015. Members should meet at 4th and Indiana for assembly and decoration of the trailer. Please make plans to attend now.

Listing of special discounts for veteran's for 2015. Click here for a listing of businesses offering discounts to veterans this Veteran's Day.

Vets Can Now Salute With Pride...


Veterans and servicemembers not in uniform can now render the military-style hand salute during the playing of the national anthem, thanks to changes in federal law that took effect in October.

"The military salute is a unique gesture of respect that marks those who have served in our nation's armed forces," said Dr. James B. Peake, secretary of Veterans Affairs. "This provision allows the application of that honor in all events involving our nation's flag."

The new provision improves upon a little known change in federal law last year that authorized veterans to render the military-style hand salute during the raising, lowering or passing of the flag, but it did not address salutes during the national anthem. Last year's provision also applied to servicemembers while not in uniform.

This change was included in the Defense Authorization Act of 2009, which President Bush signed October 14, 2008.


Get one of these for your surviors. They will thank you for it. Click here to find out how to get one for your family.

Share Our Memories


Click here to see Vietnam as our Veterans did. In their own pictures of a land far, far away.

Vietnam, 44 Years After...


Recently, MSgt Eric Evans, USAF and assigned to the 80th TFW at Sheppard AFB recently took a TDY trip to Vietnam. He took many pictures and wishes to share them with our group. Eric is also involved in the planning of the return of the Vietnam Wall to Wichita Falls. Eric's pictures can be viewed at "http://www.tavvntc.org/eric.htm" or you can click here and you will be take diretly there.


"A Long Time Ago, In a Land Far Far Away"



How About Some "Politically Incorrect" Cartoons


Click here to see a collection of "Politically Incorrect" cartoons that we think shout volumes all by themselves.

Our Families Are Still Serving


Click here to see the names of Our Member's families that still serve in the U.S. Military and are engaged even now in Operation Iraqi Freedom.

Need A Ride to Next Appointment

Click here to learn some rules and places to get a ride to your next appointment.

The Memorial to Our Sisters Who Also Served















You Have Been
Visitor Number



to visit the Home Page of the North Texas Chapter of the Texas Association of Vietnam Veterans. Check back often, as we update information as quickly as we receive it. This website was last updated on:



November 5, 2015




"Something That Should Never, Ever Be Forgotten"















This site is to honor the veterans of the Vietnam War, and the memory of the more than 58,000 of our brothers and sisters who never came home. We also want to honor and pay tribute to all veterans from all wars. It is to them, to those that paid the ultimate price, and those that are still missing and still serving, that we dedicate this web site.

Enjoy your freedom?

Then thank a vet. They are the ones who have paid for it....... ALWAYS REMEMBER: "A veteran is someone who, at one point in his or her life, wrote a blank check, up to and including their life, made payable to 'The United States of America'".







And just in case no one has told you yet, "Welcome Home. We're proud of you."

Today is:





---

"If you are able, save for them a place inside of you, and save one backward glance when you are leaving for the places they can no longer go. Be not ashamed to say you loved them, though you may or may not have always.

Take what they have left and what they have taught you with their dying, and keep it with your own. And in that time when men decide and feel safe to call the war insane, take one moment to embrace those gentle heroes you left behind."

Major Michael O'Donnell,
January 1, 1970, Dak To, Vietnam.

O'Donnell, a helicopter pilot, was declared Missing In Action on March 24, 1970, during a rescue attempt. His remains were returned in 1995, and identified in 2001.




---





---





"Let every nation know,
whether it wishes us well or ill,
that we shall pay any price,
bear any burden,
meet any hardship,
support any friend,
oppose any foe,
to assure the survival
and the success of liberty."

John Fitzgerald Kennedy
From His Inaugural Address
January 20, 1961



---

"Meeting Schedule"


Association meetings are held the 4th Tuesday of each month at 6:00 p.m., at the B.P.O. Elks Lodge, #1105, 4205 Seymour Highway, Wichita Falls, Texas 76309


Come Out and Join Us.



---

Read Our Guestbook
,