TAVV Members
with family serving in Operation Iraqi Freedom:




Mike Lechuga:


Son:

SSgt Marco L. Lechuga

U.S. Army,
Arizona Army National Guard
H-60 Blackhawk Crew Chief

Address:
Company A,
2-285th Aviation, FOB Delta,
APO AE 09317

Marco is home safe after his third deployment to Iraq. Welcome back Marco.
SSgt Marco Lechuga
At The Office
This is Marco's 3rd Deployment to Iraq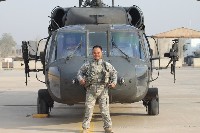 Click on photo for larger version.



Paul Gwynn:


Daughter:

Patricia Gwynn, RN

Civilian Contractor with U.S. Army

Address:

5th US Army Hospital
Surgical Unit
APO AE 09180

Granddaughter:

SPC Marina Hagins

U.S. Army,

Heavy Equip Operator

Address:

130th EN BDE;
38th ENG CO (MGB)
APO AE 09302-1346

Back Home & Safe

Grandson:

SGT Brandon Wong

U.S. Marine Corps,

Classified

Address:

Classified

Back Home & Safe

Nephew:

CPL Thomas Gwynn

U.S. Marine Corps

Address:

No address available yet.
Last information he was shipboard in Baharain

Back Home & Safe
Dale & Melody Dublin:


| | | |
| --- | --- | --- |
| SrA Curtis Bradley | U.S. Air Force | Deployed to Afghanistan |